This Agora was very important for our project. Why? It was the first official presentation of the project to the Network, first our workshop, first participation at the AEGEE-Fair and first meeting of 5 members of the team, most of which never seen each other in real life.
At the first day of the Agora we've organised a workshop on the Eastern Partnership topic which was attended by almost 40 people. It was really nice to see so many people interested in the current situation in the target country and level of the democracy there. As we had majority of people from non EaP countries present I think for them it was quite interesting to hear opinion of the people from Ukraine (as it's only one EaP country which was represented there), but also to give their own opinion on democracy in such countries as Russia, Belarus, Ukraine as well as Greece, Italy or Germany.
We were also present at the AEGEE-Fair with our creative puzzle and survey which was filled by more than 30 people. And of course one of the greatest moments of the Agora – possibility to present our project to the whole Network! These 3 minutes of the presentations made us being proud of work we are doing!
Thanks once again to all people supporting us and believing in us!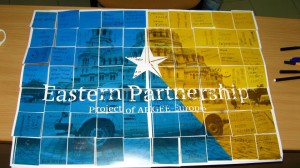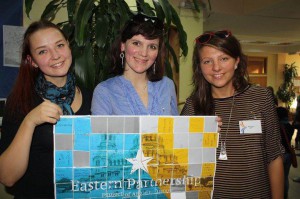 More photos can be found here.
[mapsmarker marker="12″]