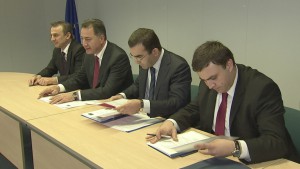 On November 3rd, the first working day of new European Neighbourhood Policy (ENP) and Enlargement Negotiations Commissioner Johannes Hahn, an important move towards a closer partnership between the European Union and Armenia has been taken. Hahn and Armenian Minister of Economy, Karen Chshmarityan, met in Brussels in order to sign a Memorandum of Understanding (MoU), an agreement to expresses a convergence of will, launching the Single Support Framework for EU-support to Armenia. The Single Support Framework sets strategic objectives and cooperation priorities for the three years to come (2014-2017). The EU has pledged to provide between 140 and 170 million Euros to support the private sector, public administration and justice. Moreover, the agreement aims to help civil society and modernization of public institutions in Armenia.
For 2014, 19 million Euros funding under the Single Support Framework was announced. The assistance, provided within the framework of the Eastern Partnership, will have as a priority the support of small businesses and human rights protection. This is crucial for increasing economic competitiveness and boosting job opportunities in the country.
In addition, a 25 million Euros financing agreement for agriculture and rural development was signed by Minister Chshmarityan and the Commissioner.
Monday's agreement is especial
ly important since Armenia decided in 2013 to join the Russian-led Eurasian Economic Union, a move that formed an obstacle for the negotiations on an Association Agreement and a Deep and Comprehensive Free Trade Area (DCFTA) between Yerevan and Brussels. "I really welcome this agreement and I hope that there will be more agreements and that there will be certainly a closer cooperation between Armenia and the EU", Commissioner Hahn said.
by Esther Hillmer
Sources:
http://ec.europa.eu/avservices/video/shotlist.cfm?ref=I094767
http://www.rferl.org/content/european-union-armenia/26673213.html
The Single Support Framework for EU-support to Armenia can be found here