The Organization for Security and Cooperation in Europe (OSCE) conducted a monitoring of the Line of Contact between armed forces of Nagorno-Karabakh and Azerbaijan. An agreement was reached with the authorities of the Nagorno-Karabakh Republic. The monitoring was held on 28th of November in the eastern part of Talish village. The authorities have voiced their readiness to contribute to the monitoring and to guarantee the safety of the OSCE Mission members.
The monitoring passed in accordance with the agreed schedule and the ceasefire was not violated.
A few days before the monitoring mission, Armenpress interview Sebastian Kurz, Foreign Minister of Austria and OSCE chairing country. He ruled out a military solution of the conflict and encouraged all parties to cooperate, establish trust as well as dialogue, and to focus on a diplomatic solution. Another outbreak of violence would be disastrous and no country in the international community is in favour of it. Besides various proposals to support creating peace, a few ideas for confidence-building measures have been established recently awaiting their implementation. The Foreign Minister also stressed the need for attention to the existing protracted conflicts in the OSCE region to reach a stable peace. Moreover, according to Mr. Kurz, nothing would show the weakness of the international system like open military hostility and regional conflict. Increasing trust and cooperation in the global order, will have a positive influence in protracted conflicts in the South Caucasus as well as in order regions in Europe.
The unresolved conflict in Nagorno-Karabakh between Armenia and Azerbaijan started in 1988, when Azerbaijani troops and Armenian secessionists began a war until a truce was signed in 1994. Since the truce, an unstable stalemate has prevailed. Azerbaijanis resent the loss of territory they regard as rightfully theirs and Armenians support the ethnic Armenian majority living in the region. After a ten-year long mediation by the OSCE, the Minsk Group was established in 2002 to encourage a peaceful, negotiated solution to the conflict together with Azerbaijan and Armenia.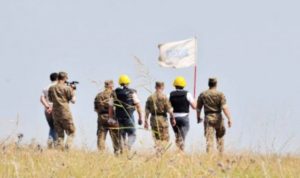 Sources:
https://news.am/eng/news/359429.html
http://armenpress.am/eng/news/868655/there-is-no-military-solution-to-nagorno-karabakh-conflict-–-austrian-fm's-exclusive-interview.html
http://armenpress.am/eng/news/869566/osce-monitoring-passed-without-violations-at-direction-of-talish.html
http://www.bbc.co.uk/news/world-europe-18270325