Interview with Gocha from the International Youth Association for Training and Inter-employment Programs
Dear Gocha, first of all thank you very much for taking your time and giving this interview. We appreciate it a lot. We would go straight ahead with the questions: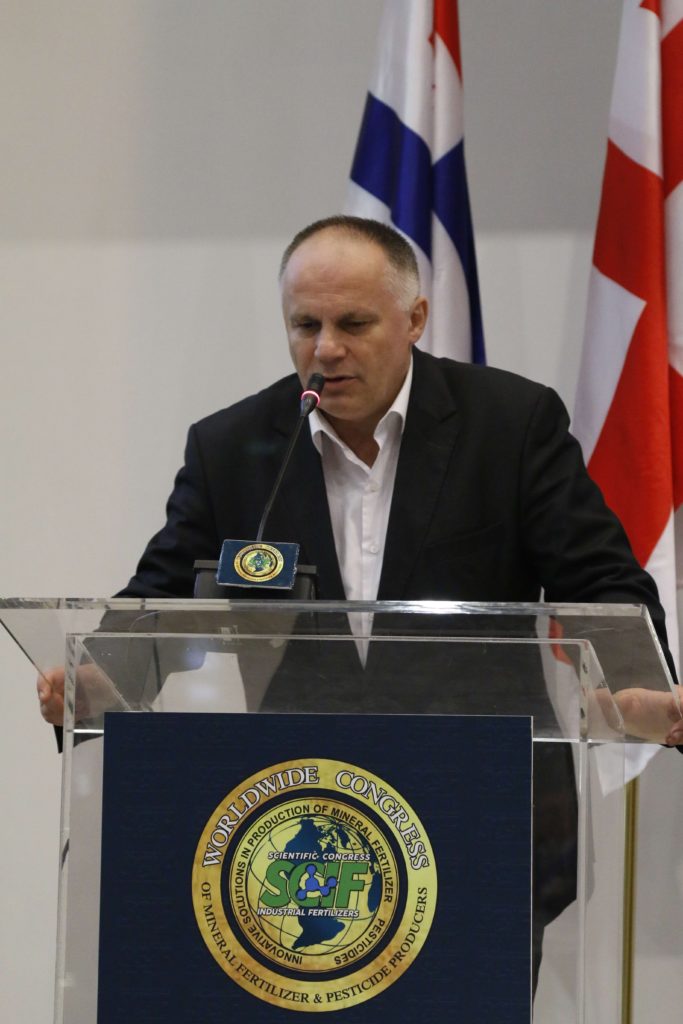 Please, first introduce yourself. Who are you?
I'm Gocha Goguadze-Chairman of International Youth Association for Training and Inter-employment Programs (TIP) since January 2016. TIP, created in 2002, is a non-for-profit, civil society organization that has been providing training and employment opportunities for different groups of teenagers, students and young professionals from all over Georgia. We are sure that young people are the best informal ambassadors of their countries and nations and they are the most motivated group of citizens who should be actively involved into the political, economic and social life of our ancient country.
You are from Batumi. Tell us a little bit about your native town? What does it stand for?
At first, thank you very much for attention and interest to listen us. Batumi is my native town. It is an ancient city. The earliest archaeologically confirmed settlement on the territory of present-day Batumi dates back to the 8th-7th century B.C. It was founded on the site of the Hellenic colony of Bathys. Later it was a small fortified town in the medieval kingdom of Georgia. In the 17th century, Batumi was conquered by the Ottoman Empire which relinquished its control of the town to the Russian Empire in 1878. It was under the Russian rule that Batumi became a major port city on the crossroads of Eurasia.
After the successive Ottoman and British occupations at the end of World War I, Batumi and its region passed to the Democratic Republic of Georgia in 1920. After the Sovietization of Georgia in 1921, Adjara was granted the status of an autonomous republic and Batumi became its capital. Nowadays Batumi is the second largest city and the most popular touristic destination as so as an important cultural and political center of our ancient country.

"We do our best to involve more and more locals into the protection of nature and the most active in that case are young people, of course"
What role does the nature and the maintenance of it play in Batumi? What has been done by the authorities?
We, citizens of Batumi, do our best to assure that our city's image as a green capital of Georgia is well known all over Europe. We were very glad and proud when in June 2016 in Batumi had been held 22-nd Session of the UNECE Committee on Environmental Policy (CEP) where were signed 2 (two) initiatives: 1. The Batumi Action for Cleaner Air (BACA); 2. Batumi Initiative on Green Economy (BIG-E).

In July 2018, Prime Minister of Georgia, Mamuka Bakhtadze, announced his new green economy concept where 'the main focus should been made to protect the environment, to improve ecology and maintain natural resources for future generations'- said Bakhtadze during the announcement of the concept. A couple of weeks after the initiatives of prime minister, Lasha Komakhidze, mayor of Batumi, informed the locals that the Batumi City Hall and the European Bank for Reconstruction and Development (EBRD) were teaming up to create a Green City Concept for Batumi.
'Various large infrastructural projects are being carried out in Batumi. In parallel to the constructions environmental issues have become a challenge for us. It is very important to pay attention to environmental issues in order not to damage the environment while developing infrastructure' – said the mayor of Batumi. As we see, two high level officials have declared that during the nearest decades our local and state officials would be focused on environmental protection and ecology.
In November 2018, with some colleagues we created the Circular Economy Club Batumi that is a civil society organization that is focused on improving and developing environmental protection and the ecology in our native town. We do our best to involve more and more locals into the protection of nature and the most active in that case are young people, of course.
You told us in beforehand about some problems popping up in your native town. Can you explain us what is going to happen in Batumi? And what does it cause?
Our reality is too different from the words of local politicians. Everyday we see how our beautiful city has been changed into "the beton jungles".
Our officials think only about the fulfillment of budgets and therefore are the lobbyists of the Wondernet Express Investment Group that in January 14, 2019 signed the memorandum for the construction of a multi-functional chemical terminal in Batumi sea port.
The chemical terminal that will be constructed in the heart of Batumi, near the apartments, hotels, cafes, restaurants, the well known Batumi boulevard and beaches will "kill" Batumi as very popular touristic destination and a lot of people will be without job and future perspectives. The health conditions of their families that is not well now will be even worse. The quality of air nowadays is too bad, for example, PM 10 (particulate matter, measured pollution by particles) is for 2,2 worse and NO 2 (azot dioxide) is to 1.6. worse than the standard are.

What will you personally do? Do you have your own way to make your voice heard?
Our international youth association, with active involvement of locals, collected more than 30 000 signatures of citizens of Batumi. We are against the construction of the chemical terminal and I, personally, brought the copies of these signatures to the administration office of the Prime Minister, the Georgian Parliament, the Ministries of Economics and Sustainable Development, Health and Social Protection. We didn't receive any answer from the representatives of those high-level institutions of our country, our letters were re-sent to the Directorate for Environment and Natural Resources of Ajara Autonomous Republic. The director of that organization, Mr. Jemal Nakashidze, informed us that they had organized an unplanned revision of the Batumi sea port. Some facts of violations of environmental protection had be found and their representatives had compiled the protocol which were sent to the Court.
In January 20, 2019, the citizens of Batumi organized the peaceful manifestation in front of the main building of the Batumi sea port where we, once more, protested against the construction of the chemical terminal in our city, but nor local nor state officials listen to our arguments. In January 23, 2019 the Ministry of Agriculture and Environmental Protection gave the final conclusion on the advisability of construction chemical terminal. It means that soon Batumi will become a city of transferring and storage of pesticides and other chemicals. It means that soon the majority of locals who were actively involved into the tourism sector will be without job. The number of tourists in Batumi will be declining a lot after the change of its image. Who wants to spend money in an area where chemicals and beaches are too close to each other?!
What can people do in order to prevent something like this to happen?
It's so pity fact that the Georgian local and national politicians and policy makers can't understand that the development of circular economy projects and environmental protection are the key issues for overcoming poverty and it's a real chance for creating a more healthy and comfortable life for our future generations.
Our team has no other choice and now our main task is to inform our partners and colleagues internationally about a very complicated environmental situation in Batumi. Soon we will have our visits in Brussels and Geneva where we'll do our best to inform our colleagues in a detailed form about the really catastrophic ecological situation in Batumi that could soon become absolutely inadmisible.
Of course, we will be very grateful for advices and support from the European civil society organizations which have been focusing to environmental protection and ecology issue.
Only together we will be able to explain politicians and policy makers in all over the world that:
" No Nature, No Future  !"