Dear Iryna, thank you very much for taking your time to reply to some of our questions. We really appreciate it.

First please introduce yourself: Who are you, What are you doing and where are you active in?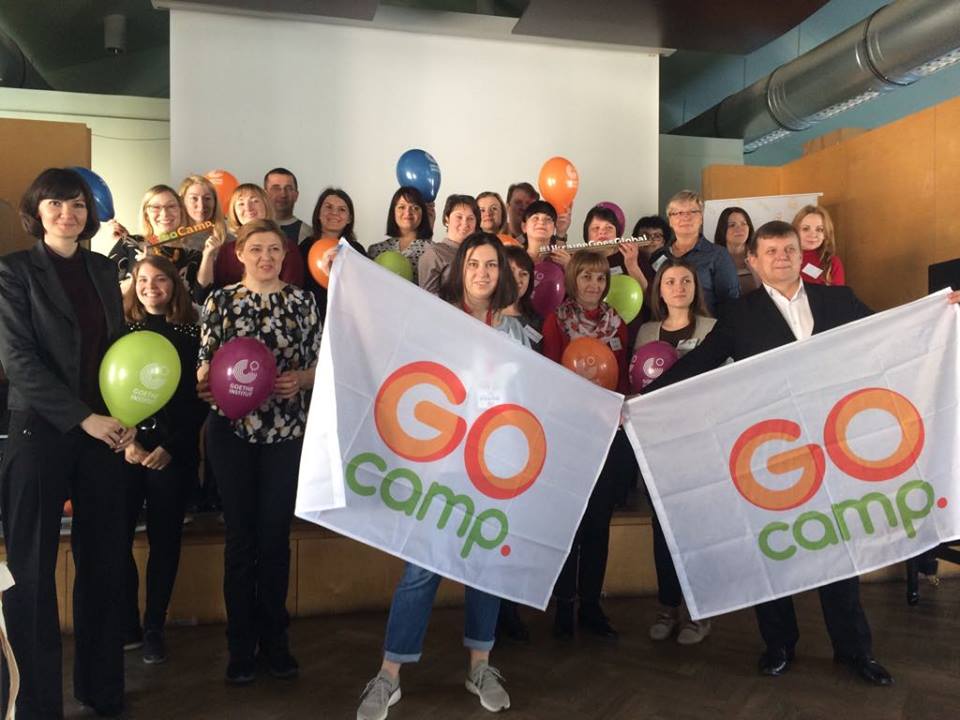 I am Iryna Gorlach, GoCamp project manager in GoGlobal initiative by Global Office. Since Revolution of Dignity in 2014 I have been involved into public activism and NGO sector in Ukraine. In 2016 I joined GoGlobal initiative, which was aimed at promoting foreign languages learning and volunteer movement in Ukraine, implementing innovative educational programmes, fostering intercultural dialogue and public diplomacy to reform and build modern Ukraine.
What is the Global Office organization? And what are the GoCamps? Please tell us more about it
Global Office is a Ukrainian non-governmental organization whose mission is to initiate and implement modern educational projects, which promote dialogue between Ukraine and the world without barriers and create conditions for educating a new generation in line with the global values. Global Office projects are implemented with the support of the government and international organizations: Ministry of Education of Ukraine, Ministry of Youth and Sports, Ministry of Foreign Affairs, British Council, American, Canadian, UK, Norwegian Embassies etc.

Within GoGlobal initiative we mostly work in education aiming to change the system of foreign language teaching, attitudes and approaches to teaching and learning, motivating children to learn and teaching them tolerance, 21st-century skills, and values through camp and afterschool programs, interaction with international volunteers.

In summer of 2016, we piloted the GoCamp project – one of the biggest project within GoGlobal initiative, summer school based camps for schoolchildren with the participation of international volunteers all over the country, mostly in small towns and rural area. During last 3 years, 1000 secondary schools took part in the programme and hosted 800 volunteers from 65 countries who came to Ukraine to interact with kids of different ages, foster their speaking skills and make their summer unforgettable.

In Gocamp international volunteers become cultural ambassadors of their countries and mentors for schoolchildren, helping them to break language and cultural barriers. At the same time, GoCamp is an experimental platform for schools where teachers can now try and use advanced techniques and be open to new ideas.
How do you think can those initiatives help the country? What experiences did you do about it in the past?
In GoCamps children and international volunteer worked in teams, communicated in a multicultural environment, learned to think critically and be tolerant to others. So far 144000 kids all over Ukraine (80% in small cities and villages) participated in the programme. The GoCamp team helps Ukrainian English/German/French languages teachers design challenging programs of the camps that develop life skills, leadership qualities, and values which will prepare the youth for the challenges of the 21st century; teach children to think out of the box, go beyond conventional subjects and see connections between various phenomena and objects and overcome the language and cultural barriers. This is very important as far as Ukrainian educational system is still lagging behind after the Soviet period and only 37% of schoolchildren can communicate in foreign languages at satisfactory level. Mostly schoolchildren never travel abroad and international volunteers are the first foreigners in their life.

"Europe is the best example of values we promote locally. The same applies to other stakeholders – schools students and teacher. This kind of project makes them understand what is Ukraine on the world's map."
Striving for diversity Global Office is not only for English/French or German native speaking volunteers but also for people, who have good knowledge of these languages and want to make an impact by influencing and opening the world to Ukrainian children, starting thinking critically and spreading culture diversity based on cultural differences. Europe is the best example of values we promote locally. The same applies to other stakeholders – schools students and teacher. This kind of project makes them understand what is Ukraine on the world's map.

Involving international volunteers helps to break stereotypes about Ukraine among foreigners, make the volunteer movement popular in Ukraine and facilitate positive positioning of Ukraine in the world.
What are the plans for the future? How is the initiative planned to look like in the future?
Our organization is rather young and is developing and growing very fast, both in the scope of projects and scale of audiences we reached. Started as an initiative, just in 3 years, we managed to become the biggest educational initiative in Ukraine, involving 144 000 children all over Ukraine, launching the nationwide foreign languages promotion campaign that united stakeholders from government, business, international and non-profit organizations.

We are planning to involve the whole generation of youth to the project – about 1 million of schoolchildren from 10 to 15 years old and unite volunteers from all over the world and teachers from the whole country to educate new generation of Ukrainians open-minded and with global values that communicates with the world without barriers.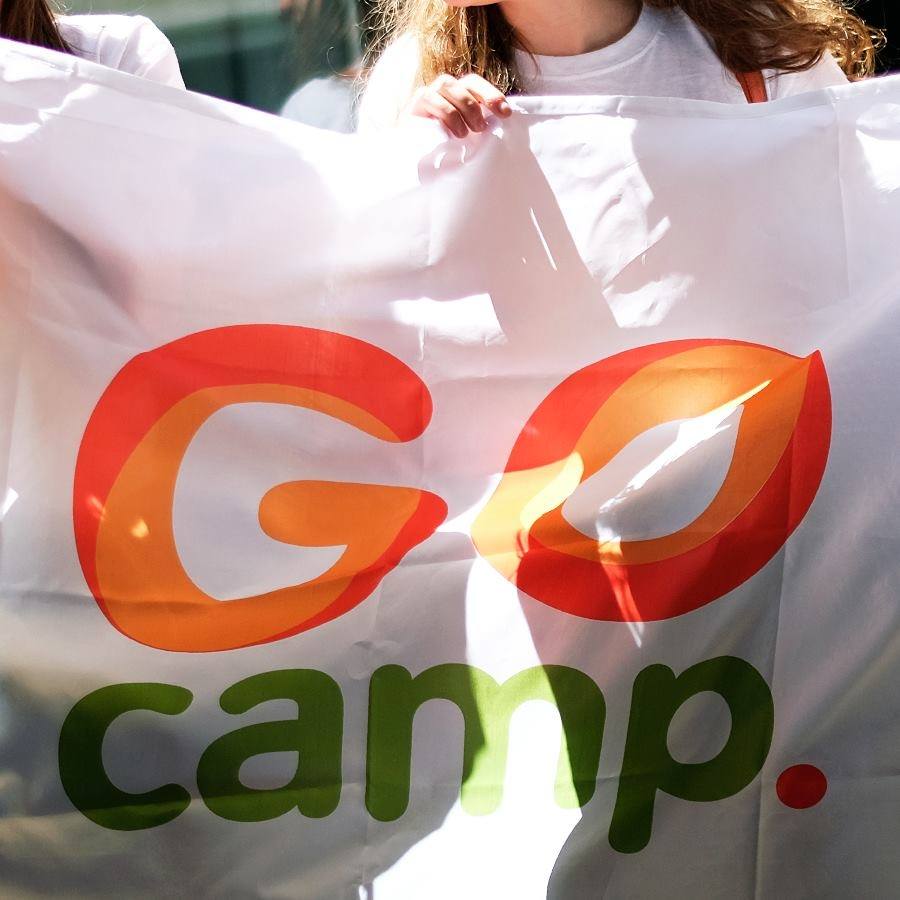 Out there we have many young people interested in volunteering for such a project. Why should I became a GoCamp volunteer? What are the benefits I produce and what are the ones I can get?
By joining the project, you create a new generation of future leaders of Ukraine, inspire youth to overcome any barriers and open new cultures, languages, and opportunities.
As a GoCamp volunteer you will experience Ukrainian hospitality and culture while living in a host-family all over Ukraine, motivate kids to break their language barriers, think creatively and critically, be tolerant and communicate in a multicultural environment in 2-week camps. You will become a part of big GoCamp family of more than 800 volunteers from 65 countries and 144 000 Ukrainian kids and get an affordable opportunity of traveling with a purpose during summer vacations.
We provide volunteers with 3-day international camp for volunteers near Kyiv, orientation training on how to work with children, accommodation in a host family and local SIM-cards with data, meals with world-known Ukrainian dishes, pick-up at the airport in Kyiv and transfer to your host community and back, personal manager support and a hotline 24/7, certificate and recommendations. GoCamp 2019 programs will be about active citizenship, Innovations and entrepreneural culture, art and creativity, leadership.

Where can I apply?
Two-weeks options are available for June and August 2019. You are welcome to sign up no matter how old you are and where you are from.