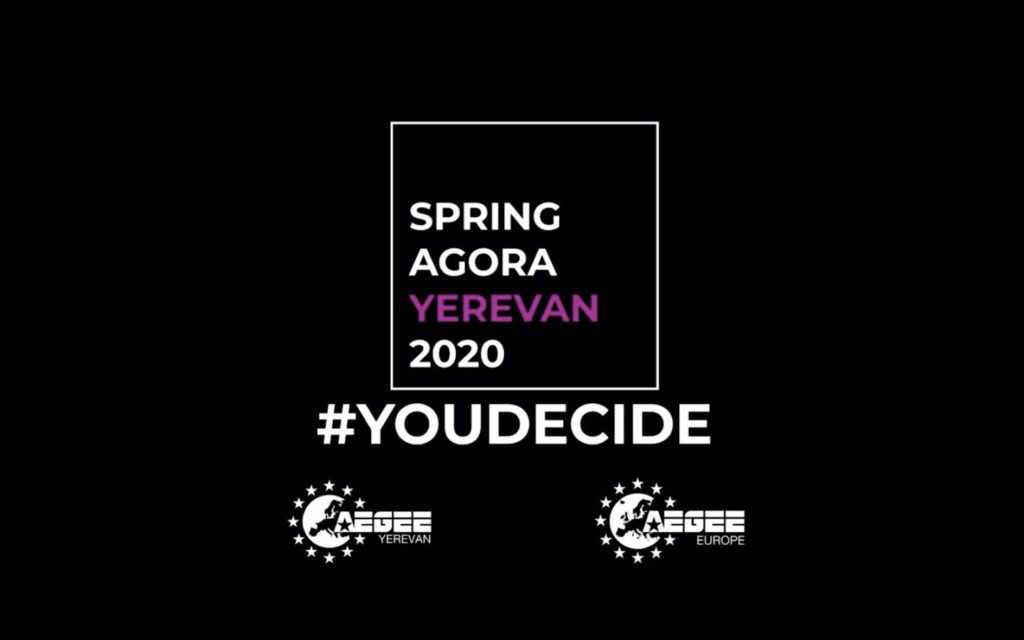 AEGEE-Yerevan made history in 2018 by hosting the European Planning meeting of AEGEE-Europe. It was AEGEE's first ever statutory event hosted in the South Caucasus region. One year after the huge success, AEGEE-Yerevan team didn't stop. They wanted to arrive at the last station of the AEGEE-Europe's 'Dream Express' and bring Agora to Yerevan. And they did it. It is already official that the Spring Agora 2020 will take place in Yerevan with a motto #YOUDECIDE.
We have discussed with the AEGEE-Yerevan team how they feel about organizing the Agora one year after EPM and how Armenia's internal political transformations contribute to the success of the projects.
  1.How do you feel about hosting the Agora Yerevan 2020?
Every one of us was very excited during the application process. When we found out about the results, it was one of the happiest moments in our AEGEEan life. It is worthy to note, that we are getting ready to do something important and also give our experience, which may have essential significance. We are super motivated right now.
2. What are the lessons learnt after the EPM Yerevan that you plan to work on during the organization of Agora?
It should be noted that EPM Yerevan had a very important impact on understanding both the potential of our volunteers and that it is possible to organize a high-level event in Armenia with the help of students. We are sure that during EPM Yerevan, counting all the results, we have already understood which were out strong and weak points and we will try to involve it in other preparatory activities. In addition, it is very important for us to make AGORA the best-organized event ever.
3. Why do you think moving the statutory events of the AEGEE to the South Caucasus and particularly to Armenia is important for the AEGEE?
With its political and regional involvement, Caucasus has been and continues to be in a very interesting focus. Armenia, Azerbaijan and Georgia have their own political agendas, but the emergence of such events has a very essential role for youth cooperation, solidity, as well as for cognition and mutual assistance. Currently, Armenia is in the centre of attention: in 2018 we did not a colourful, but a Velvet revolution.                                                                                         
We have always believed that the activities of the organization can promote the involvement of young people in local and international platforms, as well as the protection of their rights. The video message from Federica Mogherini during EPM Yerevan was very inspirational. It should be pointed, that we had organized EPM Yerevan in pre-revolutionary Armenia. After the new government in post-revolutionary condition and Comprehensive and Enhanced Partnership Agreement (CEPA), it is a very important step to move on. We are now closer to Europe and such platforms create open doors between this region and Europe. Intercultural relations and exchange, treating issues more seriously and deeply are the best methods to consolidate and heal societies.
4. What does the Armenian organizing dream team look like?
The team that we already have: our volunteers, members and those who supported and believed in us from the very beginning until now.
5. How do you think Armenia can use its internal transformational process to add a value to the Agora?
Taking into account the fact that, during the application process, we have already established some connections and got support, and, especially after being selected, this gives a better opportunity to strengthen those connections. Of course, the experience and skills gotten from what happen in Armenia use to make Agora more significant, raise more issues and questions, get and suggest solutions and support.
6. How would you persuade the skeptics of Agora Yerevan 2020 in one tweet?
AEGEE is about trust, learning, teaching and cooperation. In Armenian we have an idiom: Better see once than listen for 100 times. We are going to show the results.
7. Have you already started the preparations? What is your vision?
Our vision is clear. We want to organize the Best Agora in AEGEE history. We want to have our contribution to promoting the development of our organization. Even during the application process, we made connections in order to have preliminary deals. Especially after knowing the results and after returning to Armenia it was important for us to turn those deals into a reality. We have also worked on how to integrate our members and which methods of work to use for preparations. Very serious preparatory activities are expected, which will be presented in AGORA Salerno.