Interview with Tori Lock, from AEGEE-Berlin (first part)
Hey Tori, first of all thank you so much for taking the time to speak to us about your experiences. Super nice.
And let's start:
First you can maybe introduce yourself briefly and tell us where you are from and what you are doing?
Hello! My name is Victoria (Tori) Lock. I'm originally from New Zealand, but have spent the last 2 and a half years in Berlin, Germany and a

I'm studying my bachelors degree at Humboldt Universität zu Berlin. I've been active in AEGEE for the past year, and in December of last year was voted into my local's board (AEGEE-Berlin) as Public Relations Manager.
You are active in AEGEE and you participated in several other youth events. What is your motivation? Can you recommend it to other people as well?
I first became active in AEGEE out of curiosity. I was allured by the promise of cheap travel and a diverse, international family.
But now, AEGEE is much, much more to me. As a Non-European, AEGEE offered the opportunity to get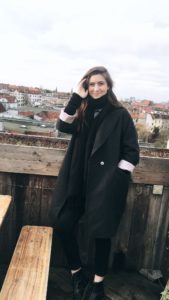 to know the European continent on a deeper, more intrinsic level. I now consider being an AEGEEan an integral part of my identity. For me, the power of these youth events does not end with the learning which happens in the training room. Instead, I am always the most moved by the learning which comes about organically, when you spend 24 hours a day, for 7 days, with people from different parts of the continent.  These training courses transcend national boundaries, language borders and stereotypes, to build a tight multicultural family unit. They align worlds, which maybe weren't aligned before and build a sense of European solidarity, which influences participants long after their departure.
I can only recommend it.