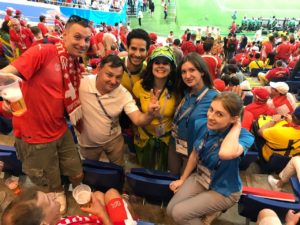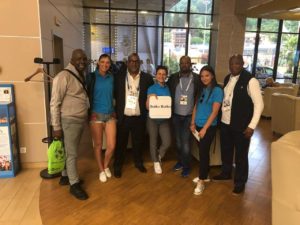 Rostov is one of the 11 host cities of this World Cup where I worked as a senior host for a transfer company. So I had a chance to peek at it from the inside – and for me it was first of all UNPREDICTABLE: Germany didn't make it to play-off, Russia beat Spain, all-time favorites like Messi and Ronaldo are sent home midway through the championship.
It was MASSIVE cause we had around 2700 volunteers (in Rostov only), about 100 000 fans for 5 matches. Imagine your peaceful city starting to buzz with loud crowds all of a sudden – there have never been so many foreign visitors in Rostov. The most excited were Mexicans, who lost an enormous amount of passports and phones on the way to the airport, the most organized – Japanese, who cleaned the stadium after the game.
It was CHEERFUL – surprisingly no acts of violence happened, fans of rival teams acted in a friendly way towards each other. The police ignored open law offences like drinking in public – instead they filmed it with their phones. Federal media were forbidden to post negative news during the championship. The world learnt that Russians know how to smile. To the guests it looks like living in Russia is easy and fun. My loot after one match: hugs with the fans – 17, kisses – 3, invitations to go to Mexico together – 1.
And finally, it was EFFECTIVE. A new big modern stadium was built from scratch, there were no terroristic acts, logistics worked alright. One thing was overlooked though: I got the access to go inside and watch the match though I wasn't supposed to. But it was worth it, now I have the pics.
In general it feels like the whole world put politics on pause for one month, forgetting all the disagreements and wrong things Russia has been blamed for recently. A summer fairytale that will soon be over.
Anya Radul