Hey Sahin, thank you so much for your time to speak with us and sharing your experience.   It's super nice. Let's start:
First you can maybe introduce yourself briefly and tell us where you are from and what you are doing?
Hello! My name is Shahin Mammadli. I am from Azerbaijan, Baku and I am studying my bachelor's degree at Baku Engineering University. I have been active in AEGEE for the past 3 years, my activity in AEGEE was mainly with my first local AEGEE-Istanbul, however I was also active for a while in AEGEE-Baki.
You are part of the AEGEE network and you participated in several events. Where did you go with AEGEE? What is your motivation? Can you recommend it to other people as well?
When I first joined the AEGEE, I did not have any idea about it, I was first year university student in Istanbul, who was looking for something to help me to become more social and be acquainted with local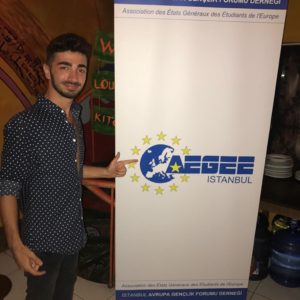 young people and international students, as I was myself.
However now, AEGEE is one of the best student organization for me. Right after few days I joined AEGEE, I already got into my first International event which was organized by my local and at the end of that event, I knew that I was in the right place for what I wanted as a young person.
Starting from my first event with AEGEE, I began to gain lots of precious and life-changing experiences and great opportunities to learn various cultures of distinctive European countries and nations. In my AEGEE life with this community, I had my first chance to travel Europe and for me it was very exciting feeling that AEGEE served me this opportunity to travel and discover new places around Europe in an easy and amazingly fun way.
During the past three years with AEGEE, I have already been in countries such as Greece, Macedonia, Netherlands, Italy and so many others and at the end of each of these trips, I have lived priceless experiences of my life, I have met so many new people from different countries and cultures and not only I have become friend with them.
Besides at some point, I felt that these people and community were like second family to me and this feeling is making me so happy that I found AEGEE, this global family. I think all young generations all around Europe absolutely should know about AEGEE and should benefit from valuable opportunities that created for them in this big family.
Do you think AEGEE could do more to include better youth further than Baku? If so how to organise events in the regions or how to talk to youth else than in the main city?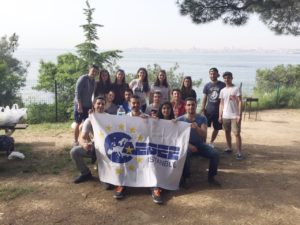 I think AEGEE power is not limited just with main cities and AEGEE can go further with decent strategy and this organization is capable enough to achieve that strategy.    In this mission the locals in the main cities should take great role for contributions and successful achievements in the regions.
Considering the fact that youth in regions is not developed as much, like in main cities, AEGEE locals should make enough informative training courses in the regions, and in order to reach the eligible audience, I think, AEGEE should also collaborate with government and schools in the regions and get help for arranging these trainings at educational institutions.
With these trainings after gathering enough eligible youth for AEGEE, I think it is that youth mission to develop and continue to make trainings and make events with the help of AEGEE locals that are in main cities for creating the best youth in the regions.
You spent a lot of time living in Turkey? What did you do there? And what made you go there?
I have lived in Turkey, Istanbul almost for two years and I was studying my bachelor degree in management department. During those two years in Turkey, I had so many life-changing experiences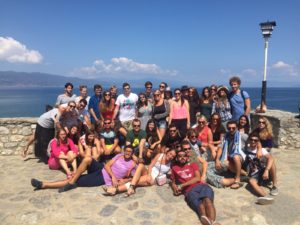 of my life and the experience of studying abroad and being international student changed my way of thinking and made great contributions in shaping my personality and also joining AEGEE there and being very active during the whole two year was one of the factors for these changes.
Although I was a foreigner in Turkey, I have never felt like foreigner in that country. This was because of too many similarities between my country Azerbaijan and Turkey. During the time I have spent there I did not have any kind of struggle in communication with local people because my motherlanguage Azerbaijani was the closest language to Turkish and, after few weeks I moved there, I was already feeling like a local.
The purpose of going to Turkey was for better education opportunities than I had in my country and unfortunately in the end of those two years I had to drop out of my university because of personal issues. However I'm so glad that I have spent one of the best periods of my life and had those amazing experiences.