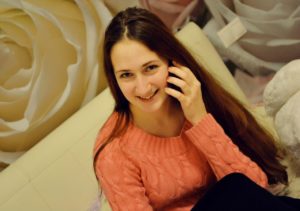 Hey Natasha, first of all thank you so much for taking the time to speak to us about your experiences. It is super nice.
And there we go:
Please tell us first something about yourself. Who are you, where you are from and what are you doing?
Hey, I'm Natasha from Moscow (actually from a lovely hi-tech 200.000's town 16 kms away from Moscow). I just got my Bachelor's degree in International Relations, returned from an internship in Berlin and am working again in Moscow for a while, before I leave my home country.
You are active in AEGEE. Tell us more about it. What did you do in AEGEE? And where did AEGEE help you in your life already?
I joined AEGEE in April 2016 to go on a Summer University and after returning from it I honestly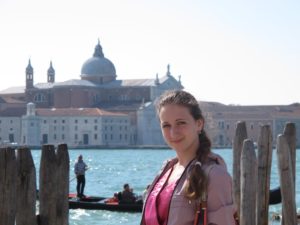 thought that would be enough. Thanks goodness, just in a month I changed my mind. My first event as organizer, "Fellowship of the Golden Ring", was when everything started. This wonderful trip was followed by a lot of local events up to the "European level" of AEGEE. I first joined Key-to-Europe 2016/17 (and a year later applied for K2E 2017/18 Core Team as well). Since then, acting as a Content Manager of EPM-Yerevan 2018 was outstanding, something I wouldn't have thought I'd ever venture to do. And of course, European Citizenship Working Group. No words here, just best team ever.
Why did you join the European Citizenship Working Group of AEGEE-Europe? And how do you think ECWG can be relevant for the EaP and Russian youth?
ECWG means to me support, experience, friendship. I'll never get tired of telling everyone: "Always say YES to any challenge" (because I thought of joining ECWG as a huge challenge!) and probably will never stop being grateful to Maria Smirnova (AEGEE-Moskva, EQAC) who suggested the idea of my joining a WG. Since I'm from Russia and the debates on whether it's a European country are still heated, I wanted to 1) bring a bit of Europe to Russia 2) bring a bit of Russia to Europe. Wanted to encourage AEGEEans to come and discuss what's going on between Russia and the EU. In this regard, of course, cooperation with the Eastern Partnership Project was highly relevant. I organized a quite successful EaP day at my university and brought the topic up as a trainer at the NWM Sankt-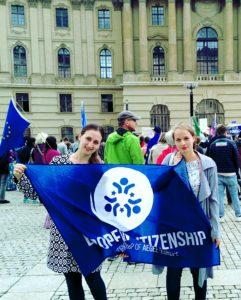 Peterburg. This latter was a blast. I achieved what I wanted: to get participants from the EU, Russia and EaP countries to debate, speak up, listen and understand others' viewpoints on the most topical matters of international relations and national identity. I hear this workshop will be delivered at several SUs this summer, which cannot but make me proud!
And of course EaP and ECWG came closer together during the EPM Yerevan. First, Marlene and me worked on and presented together the topic for EPM on the Agora Catania. But it was not only about Marlene's and mine work; we cooperated during drafting the new Action Agenda and the workshops delivered by both bodies were really compelling and we got a lot of positive feedback from EPM participants. I'm totally excited about the new 3 years' programme of EaP which will focus more on Russia, and I'm sure new ECWG 2018/19 will keep up the fruitful cooperation with EaP!
What is European identity for you, and what makes you feel European in your daily life?
Indeed, for anyone who lives in Russia the question of whether we belong to the European civilization is still open. I could write here a lot of arguments why Russian is undoubtedly a part of Europe, but both on the official and on the grassroots level, Europe is still something 'foreign', something contrary to Russia, but I dare say Europe (the EU countries, especially 'old' EU member states) is actually looked up here. It's considered prestigious to go to pursue a degree or a career in Europe.
The European identity for me is very hard to define since I really don't like generalizations, and when one tries to define 'Europeanness' it means a double generalization: the one on the national level, the second on Europe's level. Ask Germans or Italians, Brits or Spaniards and they'll find it hard to formulate their common national identity, most probably they'll say culture differs significantly within the same state!
Probably the best way to find out what European identity means is…to ask people from other regions. I recently met an American who has been travelling in Europe for several months and asked her if she notes any difference between Europeans and Americans, to which she answered she first of all notes huge difference within Europe and going from, say, Italy to Germany was a big cultural shock for her. So I struggle to define the European identity without saying obvious things that antique heritage and christianity have influenced this identity most. I'd rather say there a lot of European identities, all of which perfectly blend together and make our continent so attractive to the whole world.
You were a Content Manager at the EPM Yerevan "Borderless Europe, Can We Dream that Big?" which highlighted the motivation of AEGEE members to cross borders but also the challenges and limits of a borderless Europe. Which Europe do you dream of, and what should be practically and realistically done to try to make that dream come true ?
As someone who needs a visa to enter Schengen area states and knowing how arduous it is for EU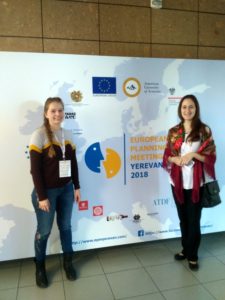 citizens to obtain Russian visa, I of course dream of a big Europe without visa limitations (laughing). A visa free regime, or at least a simplified regime between the Schengen area and Russia, for example, would be extremely beneficial for both sides, I don't see any particular risks here.
I also dream of a Europe that gives everyone equal opportunities and is completely free of discrimination (not only on paper, but also in practice and in people's minds). A Europe that takes care of its citizens and enables them to take an active part in decision-making, a Europe that preserves its cultural heritage but welcomes people from other regions, on condition that they respect their host countries…
Actually, I think Europe is already the best place on Earth to live in, and if we think it's still far from perfection we need to speak up, put forward initiatives and offer clear solutions to any problems that arise. For example, EU citizens may launch ECI (European Citizens' Initiative) if they want to be heard by the highest EU officials.
It's also possible to send a Key Action application to suggest a project that concerns both EU and non-EU countries. There are actually a lot of opportunities to make an impact, just get to know them and dare to take action!
We've heard you wrote you bachelor thesis about Eastern Partnership. What are the findings you'd like to share with us?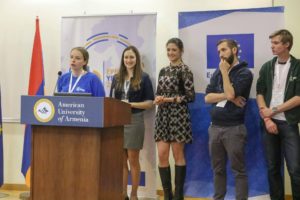 The topic of my thesis was 'The Evolution of the EU's EaP on examples of Belarus and Moldova'. I chose these two countries because they're both located in Eastern Europe, relatively small, but at the same time are considered totally different in their internal and foreign policies. The results of my study, especially as far as Belarus is concerned, surprised me.
Briefly, I found out that after the Ukrainian crisis started in 2014, the EU and Belarus have come much closer than ever (!) before. Before 2014, their relations were normally rather strained because of the EU's criticism of Belarus political regime and Belarus' mistrust.
But after 2014, the political concerns in the EU's policy are clearly giving way to practical cooperation in industry, banking, energy field, border control etc. There are ever fewer calls for democratic reforms, and the EU's policy towards Belarus is currently lack of issues that might cause alienation between Belarus and Russia, but that's another topic…
You just got accepted at the university of Passau. Before you were living in Moscow. Do you think it will be a new big adventure for you or just another European city?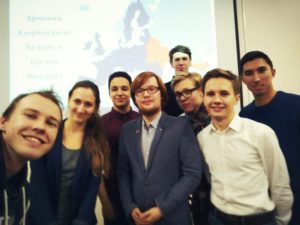 Moving to Passau is the most life-changing decision I've ever made. I initially planned moving to another European country to do my Master's, but having weighed all pro and contra and taken my AEGEE-friends' advice, I chose Germany and I'm sure I will tenderly love it (if the consulate issues me a visa, of course haha). I've never been to Passau yet, but everyone says it's a little fairytale lost in the nature and this is exactly what I have seen in my dreams and what I need after the noisy hectic Moscow.
Funnily, my friend and ECWG colleague Jasmin Kaiser noticed that ECWG has fully lived up to its name: from October onwards, all ECWG members will be living in countries other than their home countries. Best proof that we fulfilled the Action Agenda objectives! (laughing)
The EU launched a separated cross-border project for Russia and did not include it in the European Neighborhood Policy. Why do you think they did it? And do you think it should be included?
It is Russia that steadily insists on its 'particular status of relations' with the EU and therefore prefers to be excluded from Eastern Partnership Initiative framework in favour of bilateral agreements, and it comes for a reason. On the one hand, objectively Russia is too big and complex and its economic relations with the EU are simply way different from those of ENP countries. Even within EaP with 6 countries, there is no single approach to all of them. How could the EU promote the single approach towards, say, Moldova on one side and Russia on the other if there are merely different in everything (except for some cultural heritage)?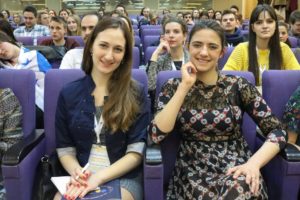 On the other hand, subjectively Russia traditionally aims at preserving its independence on the political arena (that's why Russia is actually member of very few regional integration organizations and has, for instance, a really small number of Free Trade Agreements), prefers to lead and not to be led (so prefers to lead the post-Soviet integrationist processes rather than being a subject to the EU's policy), and of course the frosty relations in the recent years make that Russia slowly drifts away from European orientation towards Asia. In addition, Russia tends to cooperate rather with EU states bilaterally (Germany, Italy, Cyprus etc.) than with the EU in general, because, as surprising as it may seems, Russians still see the EU not as a single actor but as a collection of 28 states that differ in their resources, interests, and in behaviour. Hence, Russia's approach to the foreign policy is absolutely 'realistic', and this already sets obstacles to candid Russia-EU cooperation. What we should do to normalize relations (to preserve status-quo at least) is to promote joint economic projects and civic dialogue (of the latter there is too little, so this is a niche where AEGEE could and should intervene).
Thank you so much for your time Natasha. Please continue doing a great job.