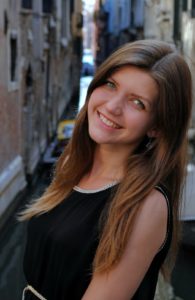 Hey Oksana, first of all thank you so much for taking the time to speak to us about your experiences. It is super nice.
Let's start:
First of all please tell us something about you? Where are you from and what are you doing?
Hello Timon, thanks for being interested too!
I'm Oksana, from Lviv, Ukraine and I have recently graduated from the Lviv University with a degree in Philology. I've been active in AEGEE for two years.
Are you member of AEGEE-Lviv? Please tell us something about your experiences and why you do it.
I love AEGEE and it's an essential part of my life. Actually, there are not many people who know that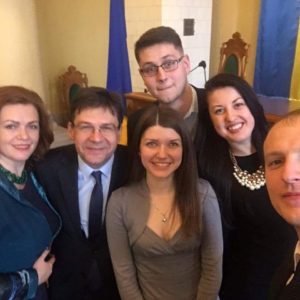 officially I joined AEGEE about 4 years ago, but at that time I had no idea about this organization. I applied for one SU, but I wrote an awful motivation and, of course, I was not accepted.
I totally forgot about this and I couldn't even imagine that in two years I would have become an active member of my local. Since that time I have taken part in the organization of several local events and participated in some international events as well, and I'm also the member of FR working team in Lviv.
Now the only thing I regret is that I could have been active for two years more. Oh, and this summer I will finally go to my first SU!
Among other events you organized an exchange with AEGEE-Dresden about Discrimination which was supported by EVZ and other institutions. How was it? And what can you say about the institutional support?
It's a bit difficult for me to answer these questions, cause I didn't take an active part in organizing this exchange; it was Anna-Maria Samson who was the main organizer from AEGEE-Lviv. Yet it was a great experience for our antenna, cause it was our first event supported by EVZ.
This year we're going to organize another exchange supported by EVZ with our twin-antenna AEGEE-Aachen, which will focus on media education. Within the project, we will elaborate on digital and media literacy, the influence of media on different spheres of our life, particularly on politics, and the ability to critically analyze media content. We will also compare the media situation in Ukraine and Germany.
Apart from your active role in AEGEE you work for a project called Forum 451°E? Tell us more about it?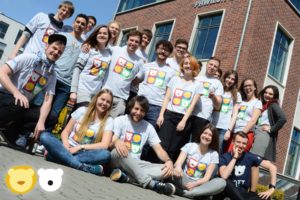 I work in IT Office of Lviv City Council. My workmate, who by the way is from AEGEE-Lviv as well, and I are organizing Forum 451°E, the main topic of which is Smart City. We want to focus on foreign experience and based on it – develop the concept of Lviv Smart City.
On the first day, we plan to involve foreign speakers from different countries who will share their Smart City experience, so that the audience will have an opportunity to compare and discuss it. The topics of discussions should be split into four blocks: Smart People, Smart Government, Smart Living and Smart Economy. Along with the presentations and discussions, an expo of different innovative technologies and solutions for cities will take place.
On the second day, we plan to form working teams for each block, which will consist of a moderator, foreign mentor, Ukrainian experts in the sphere of the block's topic, NGO representatives, public activists etc. At the end of the day, each team will present its suggestions for the Lviv Smart City Concept, which consequently will be proceeded and implemented by our office.
We're about to launch our website, but you can also follow us on Facebook to get more info: https://www.facebook.com/forum451e/. And we're waiting you in Lviv on 14th of September! 😉
How do you think the topic of sustainable cities is perceived in Ukraine? What should young people do in order to improve the situation?
What can really demonstrate the situation in Ukraine is the study undertaken by EasyPark. They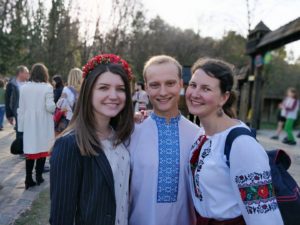 analysed over 500 cities worldwide for the factors which define a smart city, and ranked the top 100 to determine the ultimate Smart City Index. None of the cities in Ukraine were included in the list. You may have a look at the detailed ranking here: https://easyparkgroup.com/smart-cities-index/.
That's why we want to draw attention to the topic of sustainable cities, to popularize it in Lviv and to make more people know about it. I think that the young people should take more active part in the city development, propose their own ideas and not be afraid to work on them.
What is the relevance of Eastern Partnership for you? Do you think the program is helping the Ukrainian youth and providing them with further opportunities? If yes, what could be improved?
To my mind, different EaP programs, such as Creative Europe, EU4Youth and of course Erasmus+, provide lots of opportunities for the young people and for the youth NGOs. Many of my friends took part in some of those programs and it helped them to develop themselves, find out more about EU, democracy, integration etc. However, there are still a lot of people who have never heard about those programs; that's why I think they should be more promoted and more people should be engaged in them.
And one last question: Do you think AEGEE-Lviv plays an important role in your city? How can young people in Lviv benefit from it?
There are lot of youth NGOs in Lviv and, unfortunately, AEGEE-Lviv is not the most popular one, but anyway it is still a very strong and developing organization that gives students an opportunity to travel all around Europe, meet awesome people and make friends in every country. Youngsters benefit from it a lot, cause everybody in AEGEE becomes more open-minded and  self-confident with time.
Thank you so much for your time Oksana.