Hey Tori, first of all thank you so much for taking the time to speak to us about your experiences. Super nice.
And let's start:
First you can maybe introduce yourself briefly and tell us where you are from and what are you doing?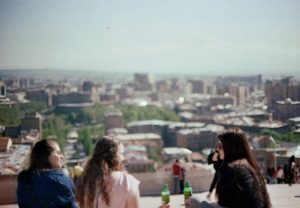 Hello! My name is Victoria (Tori) Lock. I'm originally from New Zealand, but have spent the last 2 and a half years in Berlin, Germany and I'm studying my bachelors degree at Humboldt Universität zu Berlin. I've been active in AEGEE for the past year, and in December of last year was voted into my local's board (AEGEE-Berlin) as Public Relations Manager.
You are active in AEGEE and you participated in several other youth events. What is your motivation? Can you recommend it to other people as well?
I first became active in AEGEE out of curiosity. I was allured by the promise of cheap travel and a diverse, international family.
But now, AEGEE is much, much more to me. As a Non-European, AEGEE offered the opportunity to get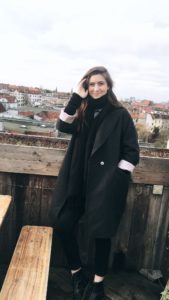 to know the European continent on a deeper, more intrinsic level. I now consider being an AEGEEan an integral part of my identity. For me, the power of these youth events does not end with the learning which happens in the training room. Instead, I am always the most moved by the learning which comes about organically, when you spend 24 hours a day, for 7 days, with people from different parts of the continent.  These training courses transcend national boundaries, language borders and stereotypes, to build a tight multicultural family unit. They align worlds, which maybe weren't aligned before and build a sense of European solidarity, which influences participants long after their departure.
I can only recommend it.
This year you participated in an Erasmus + event in Yerevan. How was it? What was it about?
Tell us about the beginning of Revolution? How was the experience? How where people reacting to what was happening?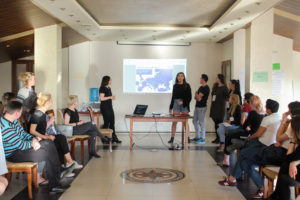 On the 15th and 16th of April, after the end of the training course, myself and the other AEGEEans rented an apartment in the center of Yerevan.  We had never contemplated, that renting such a centrally located apartment would position us directly in the chaos of the days, that would follow.
On the 16th, I woke to the sound of yelling and car horns from outside our window. Outside the window, at the intersection in front of our apartment, young Armenians were forming human chains to barricade the streets.
They looked no older than students in their  final year of high school. Buses, cars, motorcyclists were being stopped in their paths, and protesters were perching themselves in front of car engines. The intersection was loud and turbulent, and would sporadically erupt in violence, when a disgruntled driver would decide he couldn't stand the hold up any longer. Protesters held Armenian flags in their hand, and at one point a young protester arrived with red roses, which were passed through the windows to drivers.  I remember wondering, if we'd ever be able to leave the apartment.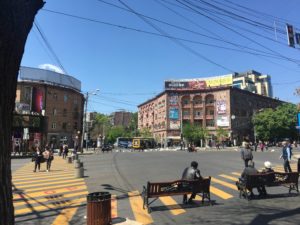 What we didn't realise until we finally ventured out on to the street, was that a similar blockade was happening at every intersection in the centre city. Traffic flow was non existent, and the city's park benches,  rubbish bins and even buses were being used as makeshift blockades at almost every opportunity. After 1 week in Yerevan, we'd become familiar with the city's copper coloured facades, busy pavements and the chaotic melody – so it was somewhat peculiar to spend our final day in Yerevan,  wandering through calm, car-less streets. We had been advised to steer clear of crowds – but the low drum of 1000s clapping and chanting in unison was unavoidable, and by the afternoon we stood for a short time in the mass of the revolution.
 We arrived at the airport that night, overcome with relief.  Never that day had we felt unsafe, but as dusk arrived, the mass of people had neared our apartment and it's roar had become unsettling. On that Monday, it was unsure how the revolution would progress, and as roads were constantly being blockaded/unblockaded/reblockaded we, with the support of our wonderful APY Trainers, made the decision to leave the city centre, and spend the night on the airport floor.
What is the relevance of Eastern Partnership for you? Do you think youth benefit enough from Erasmus + programs in the EaP region and what can be done to do more?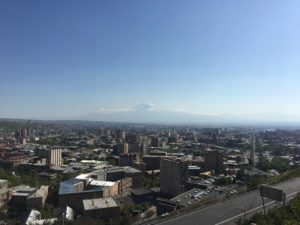 Had I never attended this Erasmus+ training course,  it is probable that the news of Yerevan's successful overthrow of their corrupt government, would have been just another headline I'd have skimmed over.  Just another headline awash in the world news.
But now any headlines mentioning Armenia or Yerevan draw my eye. The 9 days I spent in the Caucasus have left me with an emotional bond. The bright Armenian personalities I met there are my friends, and our trainers from Armenian Progressive Youth are now a resounding source of inspiration. Given the recent happenings in Yerevan, I believe the Eastern Partnership is of more importance than ever.  In order for youth to encounter cultural diversity and to establish a relationship of friendship and mutual respect, I hope Erasmus+ programs in the EaP region will be further expanded and grown.  
Thank you so much for your time Tori.